ORIGIN OF MAHAYAMA BANDHAN SAMITY
Mahamaya Bandhan Samity registered under The West Bengal Societies Registration Act, XXXVI of 1961, was formed three years back at village Mahamaya, P.O – Khari, P.S.- Raidighi, District – South 24 Parganas, Pin – 743349 in the state of West Bengal, because there was a deep need for the society to have a school for the downtrodden children in our village since the people here are living under poverty line, they don't have sufficient cloth, food and shelter to live and therefore they cannot also think to give a proper education to their children.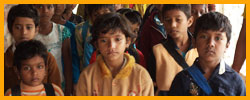 Bandhan means " to bind together", so we kept the name of our Samity as Bandhan Samity because we want to work together as a unit for the upbringing of the needy and poor children. Mahamaya is a tiny village consisting of 500 families. Villagers are destitute and under privileged. The majority stays in mud; bamboo, straw thatched huts and the rest of them live under tin sheet roof. The popularity of this village is that it is situated at the middle of other few villages namely kharpara, baidyapara, mondalpara, etc.
OUR MISSION
To develop the human resources of the community so that a self sustaining community can be established where people can access improved education facilty , health care and sources of income generation.
OUR VISION
The organization visualizes a vibrant society wherein rural community shall lead peaceful life irrespective of caste creed and religion.